15 Indigenous and Native-Owned Makeup and Skincare Brands
5 min read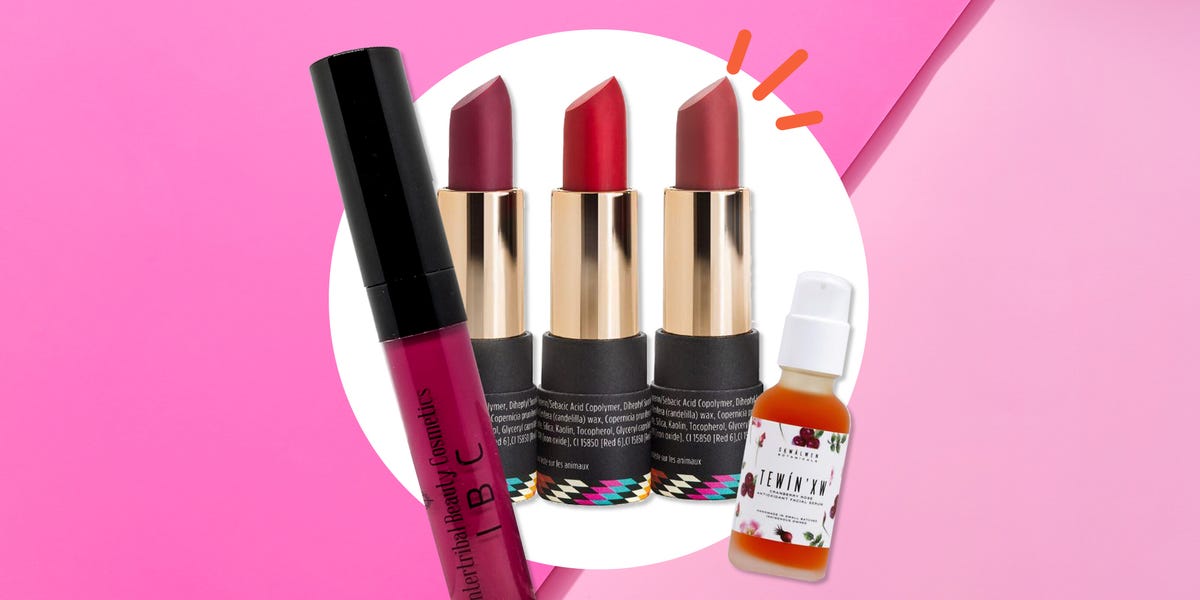 When it comes to representation in the beauty industry, Indigenous-owned brands definitely don't get the recognition—or the shelf space at major beauty retailers—that they deserve. It's so common for Indigenous culture and medicinal remedies to be appropriated by the wellness industry, but there's less of a push to support Indigenous entrepreneurs in their beauty and wellness ventures. And that needs to change.
Within the majority of these Indigenous and Native American makeup, skincare, and body care brands, there's a focus on ingredients found directly in nature and sustainable practices to harvest those ingredients and package the products. Utilizing natural herbs, oils, and extracts (like sage, tea tree, and lavender) is key for Indigenous communities, who live in communion with the land they're on and incorporate nature into many of the medicinal practices that have been in their families for centuries. Many of the products are handmade by the founders, too.
From bold matte lipsticks with biodegradable packaging, to handmade essential oil-infused soaps, to antioxidant-packed cranberry serum, here are 15 products from Indigenous and Native-owned beauty brands that you should support now–and always.
1
Blended Girl Lashes
Blended Girl
blendedgirl.com
$6.00
Blended Girl Cosmetics, founded by Navajo makeup entrepreneur Shí-Fawn Chee, highlights the eyes with a range of lashes and colorful eyeshadow palettes. Each style of lashes (there's a variety of lengths and lash fullness) is named after a notable Native American woman. 
2
Cheekbone Beauty Lipstick
Cheekbone Beauty
cheekbonebeauty.ca
$32.00
This North American Indigenous brand has been blowing up on Instagram for its interpretation of sustainable beauty. Anishinaabe founder Jennifer Harper designed a lipstick tube for their signature shades that is made from biodegradable materials and can be completely recycled after use. 
3
Creamy Matte Liquid Lipstick
Intertribal Beauty Cosmetics
intertribalbeauty.com
$18.00
Shop Intertribal Beauty Cosmetics, founded by Brittney Amitrano, who identifies as Hidatsa, Lakota, and Black, for bold matte liquid lip colors. This one is vegan and infused with coconut oil to prevent cracking. 
4
Sedona Brush Set
Prados Beauty
pradosbeauty.com
$35.00
Xicana and Indigenous founder and CEO Cece Meadows infuses her own multicultural background into Prados Beauty and the product design. You'll find everything from brushes to palettes and lashes.  
5
Tewín'xw Cranberry Rose Antioxidant Facial Serum
Skwalwen
skwalwen.com
$52.00
Ethnobotanist Leigh Joseph, whose Squamish ancestral name is Styawat, founded Skwalwen Botanicals with the commitment to using wild-harvested plants and all organic ingredients. Each product, like this cranberry rose serum, has a Squamish name to pay homage to the land on which the product ingredients can be found. 
6
Botanical Firming Toner
Ah-Shi Beauty
ahshibeauty.com
$36.00
Ahsaki Baa LaFrance-Chachere grew up on the Navajo reservation and was always fascinated with skincare innovation—she founded plant-based Ah-Shí Beauty in 2012. This refreshing, firming toner is made with cucumber extract, chamomile, aloe, grapefruit seeds, and Japanese green tea. 
7
Essential Oil & Matching Soaps Combo
Yukon Soaps
yukonsoaps.com
$20.00
Of Northern Tutchone heritage, owner Joella Hogan has been making these soaps for 20 years in the Yukon area (hence the name Yukon Soaps). The hand-poured small batch soaps, complemented by essential oils, are made from natural ingredients like olive and coconut oils and wild rose petals. 
8
Tea Tree Mint Face Scrub
Sequoia Soaps
sequoiasoaps.com
$22.00
These soaps and scrubs from Sequoia Soaps are made in Nevada, where Mohawk founder Michaelee Lazore originally made them in her kitchen. She focused on including her favorite scents, such as sage, cedar, and sweetgrass, in natural products like this tea tree and olive oil exfoliating sugar scrub. 
9
Satya Organic Skin Care Stick
Originally developed as an eczema remedy for Ojibwe founder Patrice Mousseau's daughter, Satya Organic Skin Care was developed as a natural solution to irritation and dry skin. Try Satya's all-purpose organic skincare stick, for soothing chapped lips and skin. 
10
Wild Rose Hand & Body Lotion
Mother Earth Essentials
motherearthessentials.ca
$10.00
Mother Earth Essentials is packed with botanical ingredients based on the Cree Medicine Woman ancestry of founder Carrie Armstrong. This nourishing wild rose hand and body lotion has a base of olive oil and aloe leaf, along with rosehip and cranberry seed oils. 
11
Spot Treatment for Acne Blemishes
If you're looking for a more natural acne remedy, try Niawen. Tara-Tekahentakhwa founded the brand on the Mohawk territory of Akwesasne in order to create a skincare brand that was tied to her Native American heritage. 
12
Prairie in Bloom Soap and Shampoo Bar
Haipazaza Phezuta
haipazazaphezuta.com
$6.00
Haipažaža Pȟežuta, in the Lakota language, means "medicine soaps," according to Lakota/Dakota co-founder Tipiziwin Tolman. You can cut back on your shower time and on the amount of packaging you're using with this moisturizing goat's milk and Greek yogurt shampoo and soap bar. 
13
Blueberry Sage Sugar Scrub
Spirit Earth Holistics
spiritearthholistics.ca
$20.00
Oneida co-founder Dayna Elijah also started this earth-friendly brand out of her kitchen. Not only does it look Instagram-worthy, but the blueberry sage sugar scrub has a creamy base of beeswax and shea butter, so it won't strip your skin of moisture. 
14
Sweetgrass Conditioner
Sister Sky
sistersky.com
$12.50
Real-life sisters Marina TurningRobe and Monica Simeon began their startup, Sister Sky, back in 1999 to honor their Spokane ancestral medicine. Their haircare products, soaps, and lotions are vegan and use only plant-based ingredients, including sweetgrass, white willow, and chamomile. 
15
Serum Infused Deodorant
ArXotica
arxotica-inc.square.site
$8.00
Qissunamiut Native Alaskan triplets Michelle, Cika, and Amy Sparck got crafty creating ArXotica, with ingredients that can only be found in the tundra, like Arctic sage. ArXotica created an aluminum-free, beeswax and coconut oil formula for their deodorant, infused with their trademark anti-aging skin serum.
This content is created and maintained by a third party, and imported onto this page to help users provide their email addresses. You may be able to find more information about this and similar content at piano.io