9 Bag Trends That Will Rule the New Year
6 min read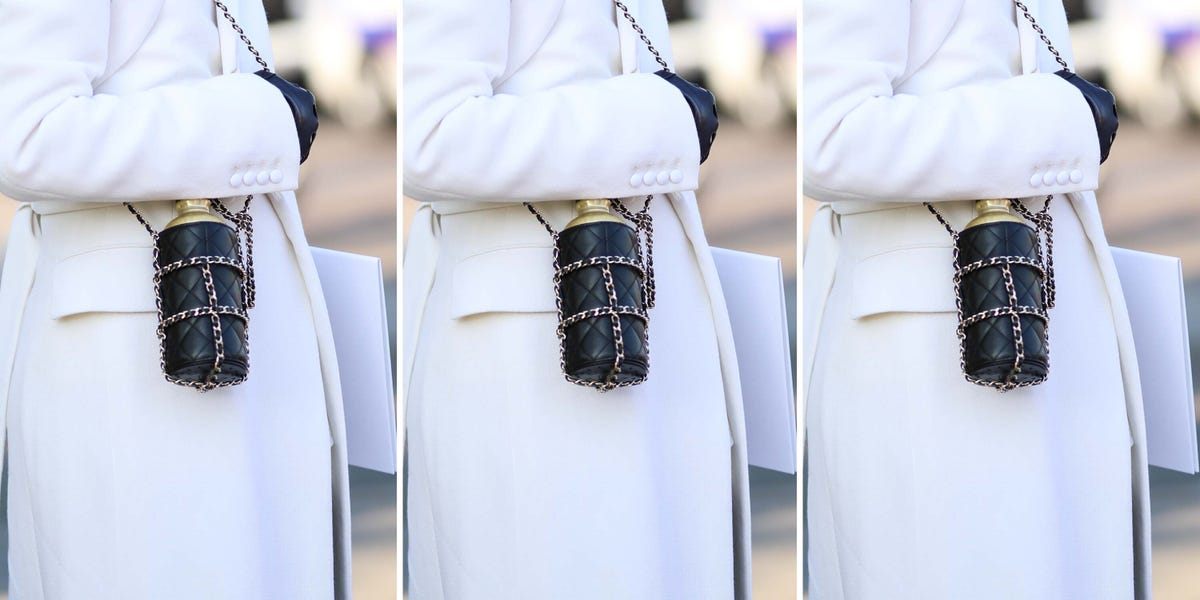 If you're a big dreamer like us, you've already prepared a long list of resolutions for the New Year. Whether your plans include achieving career growth, making new friends, or being the healthiest version of you, we know you're not going anywhere without the perfect handbag. Step into 2021 with your brand-new sidekick, a.k.a. the hottest bag of the season. We've spent the past year analyzing runway shows, people-watching, and scrolling through our Instagram feeds to discover the top-notch handbags worthy of your wardrobe. Including structured shoulder bags for a boss-girl look to larger-than-life totes that will hold the gym essentials you need, this crop has something for everyone.
Structured Shoulder
We've discovered the perfect upgrade to the iconic '90s shoulder bag. Choose a more structured shape for a retro feeling that combines the best of the decades. We've seen major fashion houses lean in to this trend, and we're calling it the best investment style for 2021.
Baguette Swipe Leather Shoulder Bag
Coperni
mytheresa.com
$400.00
You've probably already seen this chic silhouette on your Instagram feed. Its unique shape makes it the perfect partner in crime.
Cleo Brushed Leather Shoulder Bag
Prada
prada.com
$1,990.00
We're already predicting this to be the It bag of the year. Already loved by influencer and celebrities, it's the bag you'll want to be the first of your friends to own.
Jackie 1961 Mini Hobo Bag
Gucci
gucci.com
$1,700.00
The iconic Gucci bag has received an upgrade to fit perfectly into our 2021 plans. Loved by the fashion icon and First Lady Jackie O, this new bag is just as chic.
Handmade with Love
This isn't your grandmother's crochet project. We're stepping up our woven bags to make them feel more like custom masterpieces. Knitted fabrics and strong textures will make for the perfect sidekick for your 2021 plans.
Nell Bag
Bembien
ShopBAZAAR.com
$285.00
Inspired by the effortless style and nostalgia that the French woman holds, Bembien was born. If you're missing Euro travels, let 2021 be the year you get back to it with this simply chic bag by your side.
Crocheted Cotton-Blend Shoulder Bag
Bottega Veneta
net-a-porter.com
$4,500.00
Hand-crocheted from chunky cotton-blend yarn, this bag is a true masterpiece. It will surely take you many places in 2021.
Green Jacquard Forever Fendi 1974 Tote
Fendi
ssense.com
$2,347.00
With this bag, 2021 will be a breeze. The subtle Fendi logo exudes luxury, with the bag doubling as both a top-handle and cross-body tote. 
On the Fringe
It's no secret that the '70s are back in a big way, and if you haven't adopted the grooviest season into your wardrobe yet, then we're suggesting you start by adding some fringe. Anything that moves with us fits right into our wardrobes. This trend is fun, flirty, and perfect for winter.
The Fringe Pouch Shearling Clutch Bag
Bottega Veneta
matchesfashion.com
$3,200.00
Shearling and fringe are two of our favorite trends for the New Year, and this bag was a showstopper in Bottega Veneta's latest collection. Add a little drama to your life with a tote that begs to be looked at.
B-Buzz 19 Fringed Suede Shoulder Bag
Balmain
net-a-porter.com
$1,317.00
This bag is the epitome of the return of '70s fashion. Everything from the fun fringe, suede fabric, and gold hardware will set you up for a breezy year ahead. 
Cross Your Heart
This is one of the easiest trends to get started with, using what you already have. We love how this new way to wear your micro bags takes any look to the next level. Just add your tiny purse to your favorite chain or simply adjust the straps, and you've got the look.
Mini Clear 1969 Cross-Body Bag with Embellishment
Paco Rabanne
ShopBAZAAR.com
$445.00
If you're looking to add some glitz and glam to your winter apparel, then try starting off with this hands-free carryall. Though it makes for the perfect cross-body, we suggest wearing it as a necklace for a unique look. 
Bobby Surreal Leather Tote
Boyy
mytheresa.com
$346.00
This can be the perfect companion to your favorite gold chain, to be worn around your neck. With neutrals being our favorite color scheme for the New Year, this will surely come in handy. 
The Shape of You
2021 is going to be full of unexpected twists and surprises, so choose a bag that's just as exciting. Nothing feels better than having something no one else has, so browse bags that come in unexpected shapes and sizes to throw a real twist in your wardrobe. Switch things up with these bags that are unlike anything you've yet to see.
Fan Tote Bag
Jil Sander
farfetch.com
$1,554.00
Once again Jil Sander captures our attention with this striking piece. We're a big fan of its minimalist yet dramatic design, making for a unique bag shape.
Demi Lune Leather Shoulder Bag
Aesther Ekme
matchesfashion.com
$455.00
Asymmetry is in, and this is the bag to start with. As it's shaped to align with the curves of your body, you'll never want to take it off. 
To Dye For
Tie-dye had a huge moment this past year, and though the summer has cooled, we're not ready to completely say goodbye to the print just yet. So we'll be finding subtle ways to flaunt this style with a few additions to our handbag collections.
Degrade Mini Drew Shoulder Bag
Chloé
ShopBAZAAR.com
$1,890.00
Designed after our forever muse, the perfect sunset, this is a bag worth holding onto in 2021. We're calling it the perfect vacation bag to inspire our future travels.
Book Tote
The iconic Dior tote gets an upgrade for 2021 with this elevated take on tie-dye. From season to season, you'll be drawn to this staple bag. 
Gone Camping
The utility trend meets its maker when designer camping essentials begin to enter your shopping cart. Putting functionality first makes for the best fashion finds, and we're trying handy belt bags, water bottle holders, and anything with a lot of pockets.
Denim Harness Belt Bag
Fendi
ShopBAZAAR.com
NT$1,690.00
Meet the belt bag that will keep everything you need safe. Cell phone, wallet, keys, and you're out the door. Wear it over your favorite blazer to complete the look.
Linen and Leather Water Bottle Holder
Métier
matchesfashion.com
$490.00
If one of your New Year's resolutions is to drink more water, we've discovered the perfect accessory for you. With this one, you'll hit the gallon-a-day goal with ease. 
Larger than Life
Step into the big leagues with a tote bag that carries any and anything. If you're anything like us, every day requires multiple outfit changes. From the gym to the office to drinks after work, a bag like this is a must-have.
Osa Circle Tote Bag
Khaite
ShopBAZAAR.com
$1,190.00
This bag was designed to hold your entire life—including your laptop. Plus, it goes with everything.
+ Paula's Ibiza Cushion Large Leather-Trimmed Canvas Tote
Loewe
net-a-porter.com
$1,200.00
This bag increases our sense of wanderlust every time we look at it. We're packing our favorite bikini and taking a trip seaside as soon as it arrives.
Nappa Puffy Tote
Proenza Schouler
ShopBAZAAR.com
NT$2,495.00
Who says your gym bag can't be as chic as everything else that hangs in your closet? Bonus: We love a bag that matches our favorite puffer. 
Saddle Up
When in doubt, we turn to the classics, and a saddle bag is truly timeless. Making its way back into our hearts in recent years, this one is sure to take the spotlight in 2021.
1955 Horsebit Shoulder Bag
Gucci
ShopBAZAAR.com
NT$2,350.00
The archival shoulder bag designed by Gucci has been redesigned for the modern woman. We can't get enough of the classic logo print as it makes its way into this equestrian-centric piece.
Darryl Small Textured-Leather Shoulder Bag
Chloé
net-a-porter.com
$1,250.00
This bag feels like the new kid in town who everyone wants to be seen with. It simply upgrades the iconic details that make Chloé iconic, like contrast stitching, geometric shapes, and equestrian-inspired silhouettes.
Kate Mini Suede and Shearling Shoulder Bag
Saint Laurent
linksynergy.com
$1,990.00
Your winter style partner looks just like this. For cozy days spent mostly at home, we've been gravitating toward anything shearling, and this bag is on the current wish list.
This content is created and maintained by a third party, and imported onto this page to help users provide their email addresses. You may be able to find more information about this and similar content at piano.io