Halima Aden opens up about her decision to quit the fashion industry
2 min read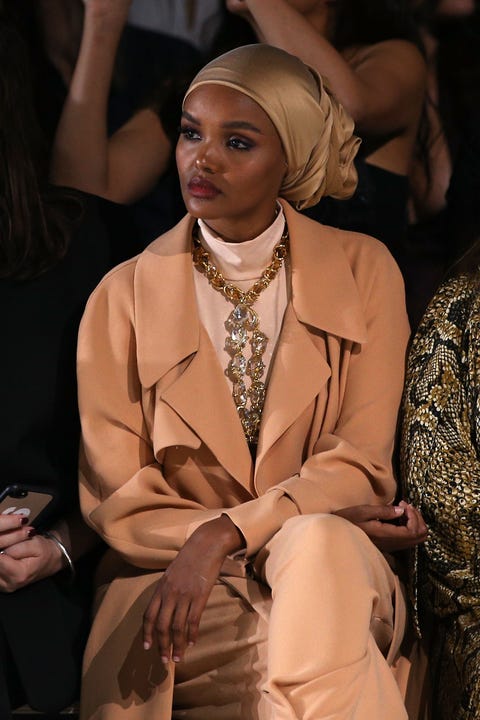 Back in November, Halima Aden announced on Instagram that she was quitting the fashion industry for good after she was forced to compromise on her religious beliefs for too long. And now, the former model has given her first interview since the decision was made, where she goes into detail about why she no longer wants to work as a fashion model.
Speaking to BBC News, Aden explains that not only was she personally finding her religious beliefs compromised on set where she had got into a "grey area" of letting a team style her hijab, but she also saw that the women following in her footsteps were having even more difficulty in getting the industry to work with their beliefs.
"These girls are following in my footsteps, and I have opened the door to the lion's mouth," she said, explaining that she felt pressure to protect them.
"A lot of them are so young, it can be a creepy industry. Even the parties that we attended, I would always find myself in big sister mode having to grab one of the hijab-wearing models because she'd be surrounded by a group of men following and flocking [round] her. I was like, 'This doesn't look right, she's a child.' I would pull her out and ask her who she was with."
Alongside this, Aden felt disappointed with the philanthropic side of her work, choosing to step down as a Unicef ambassador:"I just decided I'm done with the NGO world using me for 'my beautiful story of courage and hope.'"
This happened around the same time as Aden appeared on the cover of King Kong magazine, where she was left disappointed and compromised by the make-up and styling, and for the fact that the magazine decided to have a photograph of a nude man in the pages, when she was on the cover.
And, while all of this was happening, Aden was at home with her family as a result of the Covid-19 pandemic and cancelled work, letting her spend quality time with her mother, something which a full-on fashion schedule had taken from her – and this gave her a new perspective.
"I'm grateful for this new chance that Covid gave me. We're all reflecting about our career paths and asking, 'Does it bring me genuine happiness, does it bring me joy?'" Aden explained.
In need of some at-home inspiration? Sign up to our free weekly newsletter for skincare and self-care, the latest cultural hits to read and download, and the little luxuries that make staying in so much more satisfying.
This content is created and maintained by a third party, and imported onto this page to help users provide their email addresses. You may be able to find more information about this and similar content at piano.io